Marat Terterov
Director, Brussels Energy Club
Dr Marat Terterov is the Principal Coordinator of the Energy Charter Secretariat, an international energy security organisation created during the mid-1990s and headquartered in Brussels, Belgium. He is an Australian national, originally from Ukraine. Dr. Terterov's work at the Secretariat is predominantly political in nature, where he lends direct support to the Secretary General in high level relationship management with member and observer governments of the Energy Charter Conference predominantly in the Middle East and former-Soviet Union. He is also the Head of the Energy Charter Knowledge Centre, the internal think tank and communications division of the Secretariat. Terterov is also the Founder and Executive Director of the Brussels Energy Club, an NGO organising regular informal discussions with high level energy executives and government officials from around the world. He also founded the European Geopolitical Forum website and research network of experts engaged in sensitive debates on Eurasian geopolitics. Dr Terterov received his education in Australia, the United States and the United Kingdom, and holds a D.Phil. (PhD) in Middle Eastern politics from St. Antony's College, Oxford University (obtained in 2002). He has well over 20 years professional experience working countries in the former-Soviet Union and the Middle East in the domain of energy, investment, business development, security, geopolitics and government relations. He has written widely on the countries of these regions of the world and appears frequently as a source of independent thinking and analysis in the international media. Amongst his many important publications is the book "Doing Business with Ukraine". He is a frequent contributor to countless international conferences, roundtables and other public meetings. He speaks English and Russian fluently, while also being conversational in Egyptian Arabic and having very basic knowledge of French.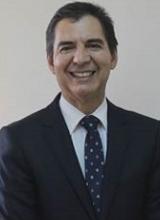 Fernando Cesar Ferreira
Former Executive Secretary, Latin American Energy Organization (OLADE)
Dr. Fernando Cesar Ferreira is the former Executive Secretary of the Latin American Energy Organization (OLADE). OLADE is a public intergovernmental organization founded in 1973, composed of 27 member countries which are represented by their Ministers of Energy. Before joining OLADE, Dr. Ferreira worked for three years in the Brazilian energy sector. He was Senior Consultant of the National Electric Energy Agency (ANEEL) in Brazil. He has experience in economics and financial technical regulation in the generation, transmission and distribution of electricity areas. Dr. Ferreira was former Director of Integration of OLADE, responsible for local coordinators and regional units; he performed activities related to Regional Integration in 27 Member Countries; he managed projects and studies; he coordinated information systems and training for the Member Countries of OLADE; he provided assistance to institutional relations with Ministries of Energy; and was responsible for coordinating the activities of the Sub-regional Offices in Central American and the Caribbean.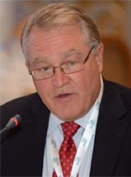 Michael Moore
Executive Director, North American Carbon Capture Storage Association
Michael Moore is the Vice President of Energy Commodities and Advisory Services for FearnOil Inc., a Houston-based division of the Norwegian firm Astrup-Fearnley based in Oslo. Mr. Moore works on development of energy resources and commodities, CO2-EOR, CCUS, infrastructure, technology advancement and related advisory services as well as related energy advocacy work in policy/regulations at Federal and State levels. In addition to FearnOil Inc., Mr. Moore is the Executive Director of The North American Carbon Capture Storage Association (NACCSA) in Washington, DC since 2008. He has more than 30 years of energy (oil, gas, coal, power, CO2, carbon) experience in brokering, marketing, business development and strategy. On December 2015 he was awarded the Royal Norwegian Order of Merit by King Harald V of Norway.
---